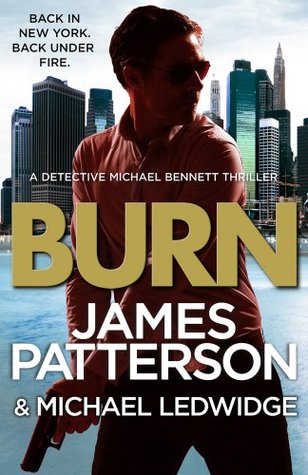 I live in a 2 family house and our upstairs neighbor, a woman in her 60/70s will occasionally send me the books she finishes. This is how I've gotten most of my James Patterson books (and perhaps how she reads anything by anyone other than James Patterson..lol). This is part of the Michael Bennett series.I enjoyed this one a lot. I don't think I've read any of the previous Michael Bennett books, but I might go find some after reading this. The story lines were simple and there was a lot of humor in the dialogue. There was some violence, but compared to other books that I have read the violence was not super descriptive or gratuitous.
I've mentioned before that I really like how short Patterson's chapters are because I can devote a few minutes to reading- or, like today, a bunch of hours while I'm hiding from the heat outside. Seriously, I hid inside all day. At lunch time I decided that I would treat the boys to Panera just to get out of the house. However, when I got back in my car after Panera:
Gross. I was not designed to live in hot, humid weather. So, we went back home and hid from the sun read a lot.
Next up is an advanced reader copy that is set in the Victorian Era. I'm happy to be catching up on my reading challenges:
Goodreads: 24/60
Mount TBR 14/36
Keyword Reading 7/12
Now I just need to catch up with cleaning and writing. :/